Globally, urban development is causing major landscape changes and is frequently associated with loss of species richness and density, and increased homogenisation of ecological communities.
Compared to other cities nationally and internationally, the Perth urban landscape is relatively early in its development, however it is catching up fast and rapid urban growth has caused extensive biodiversity loss since British settlement nearly 200 years ago. Continuing development, especially at the fringes of the city, is the main catalyst for fragmentation of the landscape and the loss of native flora, fauna and ecosystem functions.
Western Australia is also experiencing the impacts of climate change. Perth's climate is expected to become harsher under future climate projections. As Western Australia's urban population density continues to rise, the environment faces greater climate risks, as do governments, industry and the wider community.
A collaborative, integrated integrated approach to urban biodiversity resilience – WABSI stakeholder consultation
The issue requires a clear focus on collaborative opportunities for problem-solving, and tapping into existing resources, knowledge and expertise to apply best practice land management. Collaboration between a broad group of stakeholders provides an opportunity to tackle the most pressing biodiversity challenges that are facing ecologists, policy makers, scientists, urban planners, developers and local governments.
WABSI stakeholder consultation identified four key knowledge priorities 
What parts of the urban landscape/remnant habitats will benefit most from targeted urban biodiversity enhancement?
How can we prevent loss of tree canopy cover on residential land?
How connected can the landscape be made— what are the optimal minimal linkages that can be provided?
What is the optimal design of service/infrastructure corridors and assets to support green corridors for biodiversity?
Stakeholder engagement helped develop a prioritised research program to address critical end user knowledge gaps
The WABSI program reflects the knowledge gaps into four priority research themes, with a number of focus areas in each:
Conserve – remnant vegetation, native fauna
Restore – habitat restoration, water for biodiversity
Design – best practice design, climate change resilience
Equip – decision-making tools, value of ecosystem services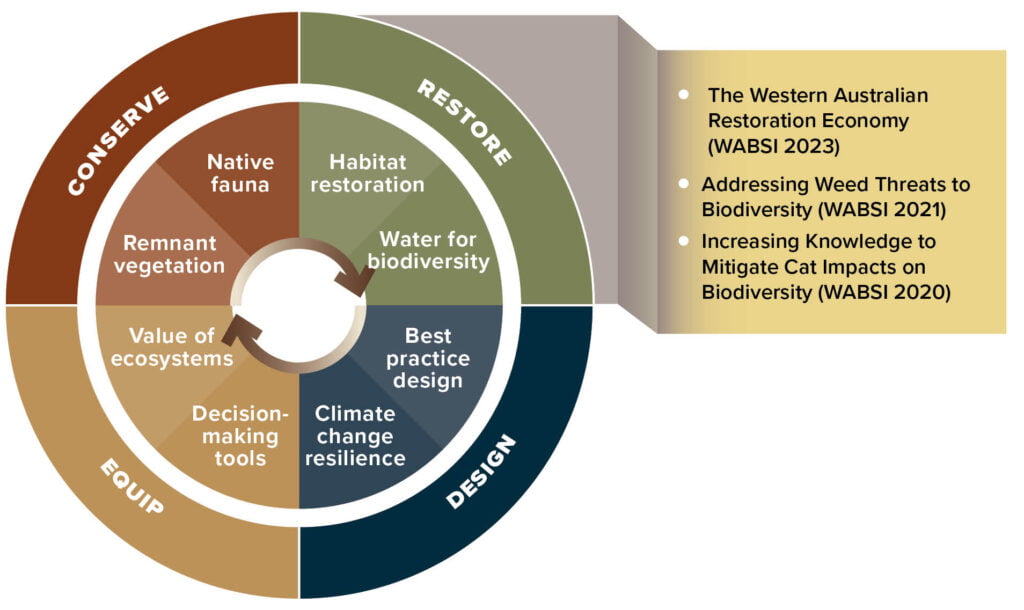 More details will be published in the WABSI program, due for release soon.
WANT TO ENGAGE WITH US?
Email us info@wabsi.org.au