Increasing knowledge to mitigate cat impacts on biodiversity
Download the research program document here
News: About the WA Feral Cat Working Group
The challenge
Domestic cats (Felis catus), introduced to Australia over 200 years ago, now cover the entire mainland and many off shore islands, and represent a significant threat to native fauna across Western Australia.
The numbers of animals lost to cat predation each year are astonishing in their magnitude – in excess of 2.2 billion birds, reptiles and mammals across the country. They have been a major factor in 27 animal extinctions in Australia and continue to threaten many more.
Where cats have been effectively controlled in the State there have been noticeable benefits for native fauna. Western Australia is a global leader in the control of feral cats, including island eradications, ambitious lethal baiting programs, Indigenous-led management, and large exclusion fencing areas to protect prey species.
As for the control of all introduced animals, these programs need to weigh up the efficiency, effectiveness, and animal welfare concerns to ensure that the multiple benefits from management outweigh the costs.
Even so, managing cats remains challenging, with no single, consistently effective control method available, and local context being critical to management outcomes.
Why now?
In Western Australia, the recent listing of feral cats as declared pests in the Biosecurity and Agriculture Management Act 2007 opens up new opportunities for land managers to control cats in a more collaborative, cross-tenure approach.
While the financial cost of controlling cats remains high, there is increasing public awareness of the need to address the issues that are holding back more effective and enduring mitigation of the significant threat that cats represent to our native animals.
The WABSI research program
The vision is to enhance the conservation of native species in Western Australia through improved management of cats, by addressing priority knowledge gaps through new research and facilitating the translation of this insight into effective on ground outcomes.
The prioritised framework provides a guide for the development of research activities and will facilitate complementarity and collaboration, rather than duplication of research effort.
When delivered, the program will help Western Australia to strengthen its role as a national leader in delivering innovative solutions for cat control, and will facilitate a unified approach to addressing knowledge shortfalls for what is truly a cross-tenure issue of relevance to the entire nation.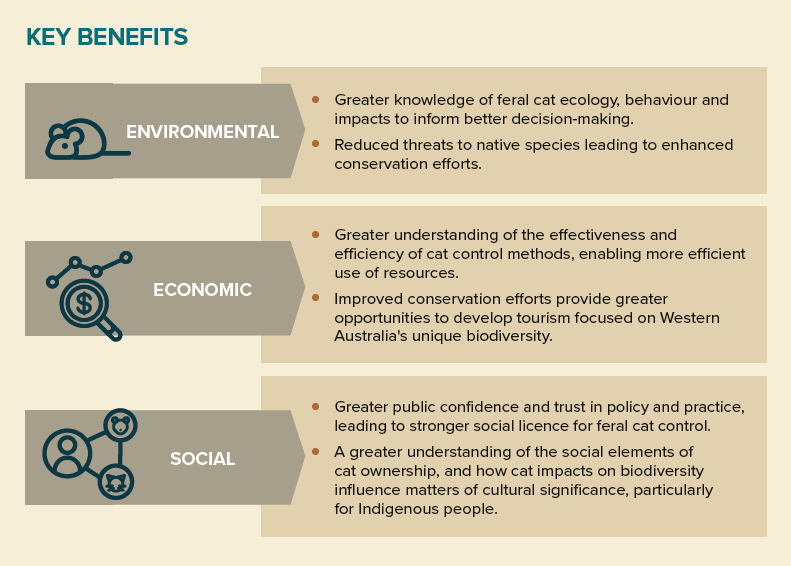 Wide support for the research program
John Tjupurrula West, Kiwirrkurra
"These days there a lot of cats. They are killing all the desert finches and other things too, like bilbies. We have to save the bilbies. They are only left here and a few other places. That's why we are hunting and killing the cats, but there are more and more, so many now out here. What do they call them? Predators. Because they cheat. And the ones that were here before are now all gone."
Dr Rachel Paltridge, Indigenous Desert Alliance
"Desert Aboriginal people have been hunting feral cats as a food resource for many generations and Indigenous Tracking Experts have detailed knowledge of cat behaviour and ecology. Adopting a Two-way Science approach to cat control that combines Indigenous knowledge and perspectives with contemporary science and technology is the most effective and efficient way of reducing the impacts of cats in the desert."
Professor John Woinarski, Charles Darwin University
"Dedicated research by many scientists and managers over recent decades has led to major advances in knowledge of the ecology, impacts and management of feral cats. But there remain many major gaps that constrain our ability to effectively control feral cats, and across most of Australia their significant impacts remain unabated. Ensuring that knowledge gaps are identified, prioritised, communicated and addressed is a critical part of getting improved conservation outcomes for our native wildlife."
Professor Peter Klinken, Chief Scientist, Western Australia
"We urgently need a unified effort to reduce the devastating impact of feral cats on our native wildlife. The Western Australian Biodiversity Science Institute is leading the way by addressing key research priorities to improve feral cat control across tenures."
Dr Sally Box, Threatened Species Commissioner
"Feral cats are a significant threat to our native animals and their devastating impact is a national issue. We need improved knowledge for better control so we can safeguard the future of our vulnerable wildlife."