Download the research program document here
The challenge
Non-native invasive plants in Australia are currently among the greatest threats to native biological diversity and a significant cost to agriculture, costing the nation between A$3 to 5 billion annually.
Australia has a long history of some 26,000 plant species introductions and around 2,700 established non-native plant species. Approximately 30% of these potential invaders are now of serious economic and environmental concern.
The prevention of further invasions through weed risk assessment and the management of existing weeds has been the focus of considerable policy, research and management effort. Yet despite these efforts, there remains a mismatch between the magnitude of the threat to biodiversity from weeds in Australia and the resourcing invested to address the problems. Central to this need is a better understanding of, and ability to quantify, all measures of weed impacts. There is also increasing recognition of the benefits of proactive weed control when new introductions are not as widespread or threatening, improving the likelihood of acceptable outcomes and dramatically reducing the required resources to achieve management goals.
In many cases weeds are currently prioritised and managed based not on an objective assessment of their impact, but rather on their presence, abundance, or occurrence within political or land tenure boundaries. The impact of weeds is also significantly influenced by local context; interactions between weeds can also influence a given control outcome, requiring a management approach that can consider impacts at an ecosystem level. At a very basic level, weed impacts are, by their very nature, subjective with a diversity of views from positive to negative put forward on certain species. In particular, 'conflict species', which have contrasting impact determinations depending on the stakeholder viewpoint, can be mismanaged without cross-tenure assessment and broad stakeholder engagement. Moreover, new conflict species are still being brought into Western Australia for horticultural and agricultural purposes.
Stakeholders helped to identify and prioritise the critical knowledge gaps which need to be addressed
WABSI led a series of workshops with end users and research providers representing many of the organisations at the forefront of research and management on weeds in Australia. A virtual format enabled engagement from stakeholders right across Western Australia, with robust discussions producing a clear consensus on the work that needs to be done to close the most important knowledge gaps.
Stakeholder engagement identified, scoped and prioritised the most important research topics across eight focal areas: benefits, social licence, ecology, impacts, control, detection, prioritisation and implementation.
Research program focuses on four strategic themes and eight focal areas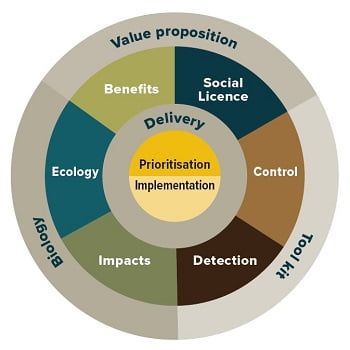 Key benefits of the research program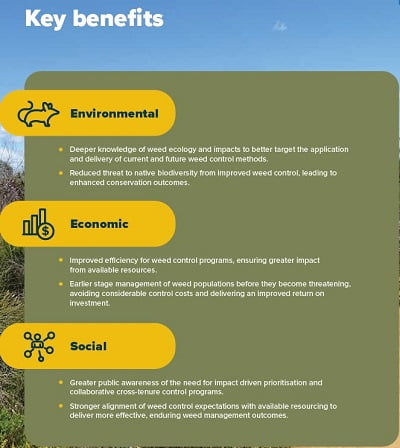 Wide support for the research program
Hon. Amber-Jade Sanderson, Minister for Environment and Climate Action
The Western Australian Biodiversity Science Institute is to be congratulated for its efforts to raise awareness about the threat weeds pose to biodiversity.

Professor Peter Klinken, Chief Scientist, Western Australia
We need a better understanding of all measures of weed impacts, so we can be more proactive with weed control. A deeper knowledge of weed ecology and impacts, through research, will enable us to target how we deliver weed control methods.
To address this knowledge gap, The Western Australian Biodiversity Science Institute (WABSI) has brought together community groups, science experts, government and industry to establish what we currently know about impacts and weed control and where we need greater knowledge. This stakeholder consultation guided the development of WABSI's research program, Addressing Weeds Threats to Biodiversity. I am delighted to launch this really important initiative.
Louise Beames, Program Manager, Environs Kimberley
Weeds are a significant and escalating threat to the natural and cultural values of the Kimberley region. Research needs to be developed and applied, on the ground and in collaboration with communities, so that people can contribute their intimate knowledge of weeds in the landscape, and resources can have an impact on weeds from day one. Delayed investment in early intervention for weed invasion, weed management and research increases the likelihood that weed programs will become prohibitively expensive, causing regrettable, and often irretrievable losses to biodiversity and cultural heritage.
Victoria Aitken, Director, Invasive Species and Environmental Biosecurity, Department of Primary Industries and Regional Development
Weeds are a huge challenge for Western Australia. Our large State contains almost every Australian ecosystem and climate type, making it susceptible to a broad range of weedy invaders from around the country and overseas. Weed incursions can also sneak up on us, becoming noticeable only once they occupy large areas and are hard to control. The WABSI weeds program will help further bring together communities, government agencies and institutions to coordinate our efforts and expertise against weeds. We all need to be in this fight to protect our industries, unique flora and fauna, and way of life in this beautiful land.
John Moore, Invasive Species Senior Research Officer, Department of Primary Industries and Regional Development
Minimizing the impact of weeds requires an integrated approach based on research, community action and government support. All too often weeds are allowed to build up to a level where management is very difficult. Early detection and rapid response has seen a number of weeds locally eradicated in Western Australia. In these times of mass extinctions we can use the lessons learnt to send the alien invaders on the extinction pathway and make sure our natural flora and fauna does not follow the same road.
Justin Bellanger, CEO, South Coast Natural Resource Management Inc.
The South Coast of Western Australia is an international biodiversity hotspot due to the sheer number of plant species here as well as the threats they face. Weeds are a key component of these threats, impacting directly and indirectly to displace our native species. This work by the WA Biodiversity Science Institute will help greatly by increasing our understanding of where we, both researchers and community end users, should be focused to maximise the outcomes for the environment.
Vicki Long, Ecologist
During my 36 years of living and working in the Pilbara I have witnessed first-hand the loss of flora and original vegetation types and the degradation of landscapes due to the continual introduction and spread of weeds. I continue to watch as weeds such as stinking passionfruit and kapok invade the world renowned Murujuga (Burrup Peninsula). A lack of responsibility for this biodiversity loss, public ignorance and indifference, and ineffective or insufficient action are just some of the many challenges I deal with. This WABSI program will tackle these complex issues to help deliver effective weed management and positive outcomes.
WANT TO ENGAGE WITH US?
We seek partners that want to invest in leading research that will increase knowledge and help lift certainty to enable more informed management decisions and better biodiversity outcomes.
Email us on threatsandprocesses@wabsi.org.au