Key facts about The Western Australian Biodiversity Science Institute (WABSI)
A joint venture partnership with leading Western Australian science research organisations, with multi-disciplinary research expertise.
An independent, collaboration mechanism to facilitate end user driven, relevant biodiversity science research.
Funded by the Western Australian Government's Department of Jobs, Tourism, Science and Innovation.
Our vision
To bring together diverse knowledge to protect and conserve Western Australia's unique biodiversity.
Our purpose
To facilitate collaboration for identifying and addressing strategic biodiversity knowledge priorities for a sustainable future.
Our impact
Create opportunities for meaningful change in biodiversity conservation.
Enable sustainable development for Western Australia.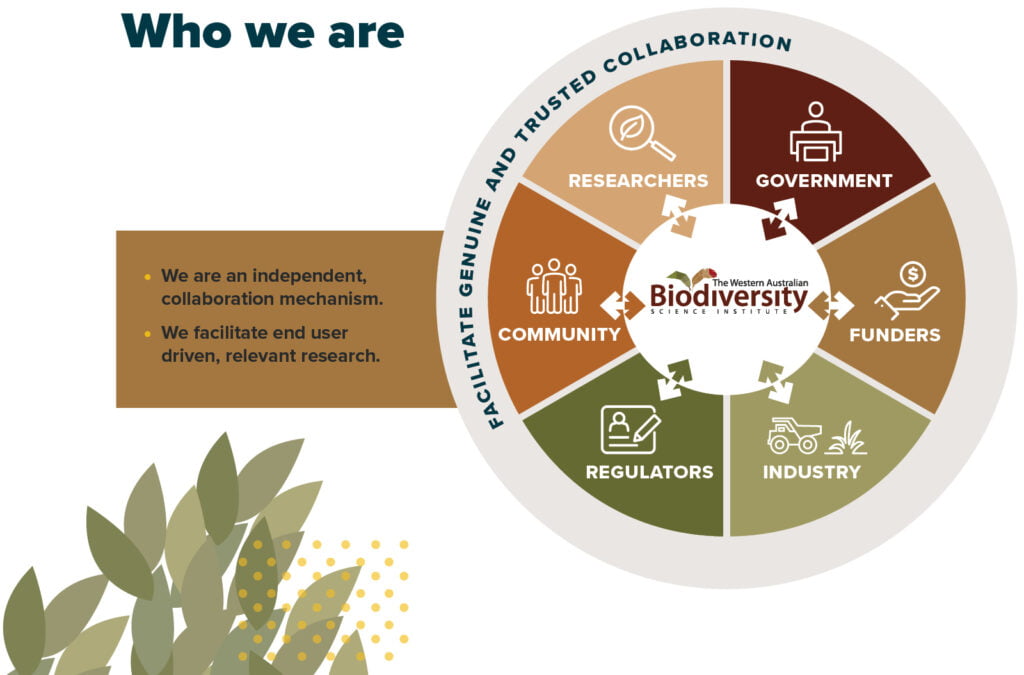 Our history
In early 2013, a Steering Group was established to progress the development of The Western Australian Biodiversity Science Institute. A balance of research agencies, government advisory agencies and industry were represented.
A wide consultation process identified the clear need for an institute that could be independent and address knowledge needs for end users. This led to the establishment of the Institute.
WABSI was officially launched in October 2015, with an executive team appointed in May 2016.
WABSI's foundation members
The University of Western Australia
Curtin University
Murdoch University
CSIRO
Department of Biodiversity, Conservation and Attractions
The Chamber of Minerals and Energy
Environmental Protection Authority
Department of Mines, Industry Regulation and Safety
Botanic Gardens and Parks Authority
Western Australian Museum
BHP