PhD project – Soil seed bank dynamics and topsoil health for mine site restoration
An opportunity exists to undertake a PhD in soil seed bank dynamics and topsoil health for mine site restoration at Curtin University, with the support of South32 and The Western Australian Biodiversity Science Institute (WABSI).
The project provides the successful candidate the opportunity to work with leading researchers in mine site restoration, gain industry experience and be part of a broader program of work being delivered across WABSI partners.
A top-up scholarship of $7,500 per annum and operational funding is available to a successful Research Training Program (RTP) scholarship holder.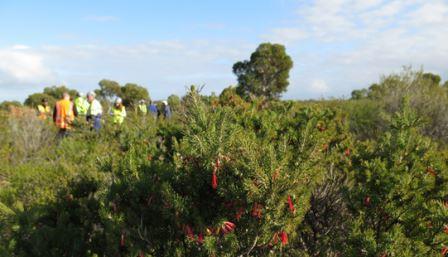 Background
South32 is a globally diversified metals and mining company, with operations in Australia, Southern Africa and South America. South32's operations include Worsley Alumina, with bauxite mines near Boddington, an alumina refinery near Collie and port operations in Bunbury.
South32 has developed a partnership with The Western Australian Biodiversity Science Institute (WABSI) to support the delivery of research that will address key knowledge gaps required to improve biodiversity outcomes at Worsley's operations. WABSI is a joint venture partnership of Western Australia's leading research providers, including Curtin University.
The Project
Management of topsoil for use post mining is an integral component in restoration. Worsley's mining operations, located 130km south-east of Perth near Boddington, includes progressive rehabilitation and ecosystem restoration as a core operational process supported by environmental policy and procedures. To ensure continual improvements in existing rehabilitation practice, South32 aims for scientifically-driven research to understand and manage these environmental constraints. Evaluating the capacity of species to resist germination during the topsoil salvage and return process is critical in enabling the maximum diversity of species return for restoration. Storage conditions and treatments to topsoil while stored for different durations significantly impact seed viability and microbial communities that facilitate plant growth which in turn may impact vegetation communities returning to restored areas.
Requirements
Students with a relevant Honours or Masters degree, or who can demonstrate equivalence through work experience and/or publication(s) are encouraged to apply. Must be eligible to enrol in a PhD at Curtin University and needs to be successful at obtaining a Research Training Program scholarship for this project. Applications for RTP scholarships are due by 21st September (http://research.curtin.edu.au/postgraduate/rtp-scholarship-policy/ )
Contact
Interested students are asked to contact Dr Renee Young (renee.young@curtin.edu.au) with their CV and for further information.