Bid is now shortlisted for stage 2
Submissions for the next stage are due in four weeks
Final outcome of the CRC will be announced in December 2019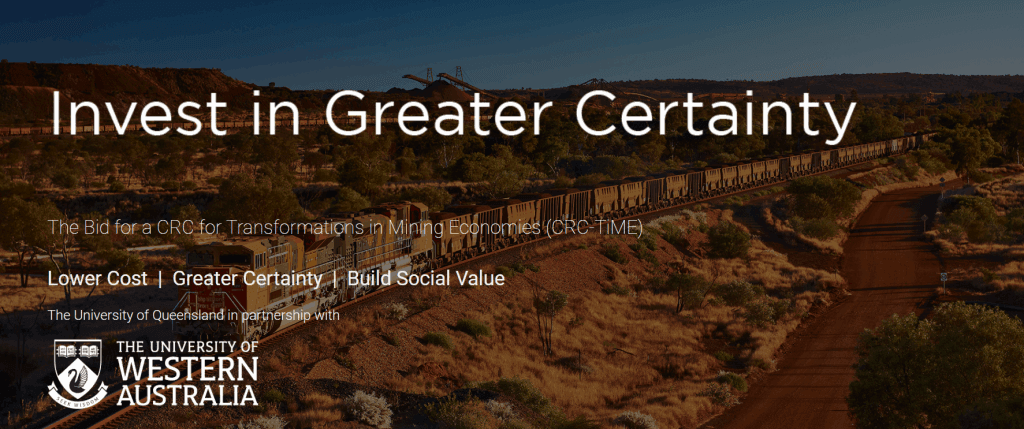 The proposed CRC for Transformation in Mining Economies (CRC-TiME) will drive transformational change and enable regions and communities to transition to a prosperous and sustainable post mine future.
As part of the CRC bid management team, The Western Australian Science Institute (WABSI) led an extensive and collaborative effort over the past 12 months to develop and submit a stage 1 application for CRC-TiME. Minister for Industry, Science and Technology Karen Andrews announced yesterday that the bid has been shortlisted for stage 2.
Joint hosts, The University of Western Australia and The University of Queensland, will now lead the CRC-TiME bid into the next phase that includes an analysis of the economic, social and environmental impact of the CRC's research programs.
Mine closure is an integral phase of an active mining industry but is a global challenge. Successful mine closure and relinquishment is a complex and expensive process; liabilities can amount to billions of dollars, in addition to other economic and social costs that are borne by industry, governments and communities.
This underpins the need for a CRC that addresses the science knowledge gaps in mine closure and relinquishment and provides greater certainty by addressing this significant issue through a national partnership. The CRC Program supports business-research engagement, to drive innovation and job creation.
A successful CRC-TiME will build trust between mining companies, regulators and communities, and improve the business settings for closure and succession. It will help transform mining economies to enable greater certainty post-mining, to drive investor confidence and social development in one of Australia's most important industries. It will also help create new technology and process solutions to position Australian companies to maximise opportunities in an emerging, billion dollar mine closure global business.
"To prepare for a stage 2 submission and help strengthen the bid, we are undertaking further consultation with end user groups and their representative organisations," said Guy Boggs, Program Director, WABSI and a member of the bid management team.
End user workshops will be held in Perth (3rd October) and Brisbane (9th October).
The stage 2 submission for CRC-TiME is due in four weeks and the final outcome is expected to be announced in December.
CONTACT
Dr Guy Boggs, Program Director WABSI, Member of Bid Management Team Guy.boggs@wabsi.org.au

Find out more about CRC-TiME