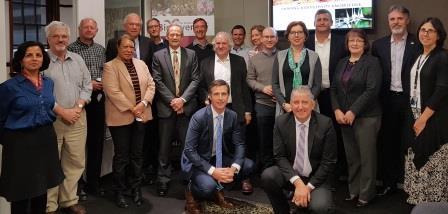 Western Australia's Chief Scientist Professor Peter Klinken came to speak to the Board and Executive Team at WABSI recently.
He shared his vision for W.A. leading the way through science and innovation and the critical role that WABSI plays in addressing science knowledge needs.
The role of the Chief Scientist
The Chief Scientist works closely with the department's Science and Innovation division and plays a key role in:
Enhancing collaboration locally, nationally and internationally.
Attracting Commonwealth and industry investment into Western Australian science.
Building leading-edge scientific capacity in the State.
Promoting science policies and initiatives at meetings across academia, industry, Government and the community.
Acting as an ambassador for science, helping the State Government raise public awareness of the importance of science.